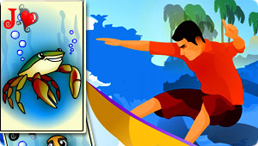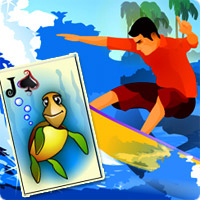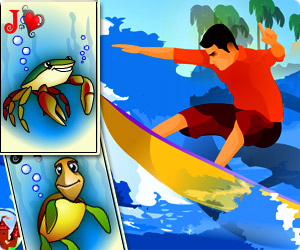 This game is brought to you by our sponsors. It is always free. NO TIME LIMITS!
You will be offered to install MyPlayCity Games Search Chrome Extension with convenient internet search.
Free Solitaire Ultra
Free Solitaire Ultra is the most "summer" patience that you have ever seen! Bright sea-themed graphics and stunning music bring you to the exhilarating atmosphere of holidays! There are two game modes at your choice - Classic and Timed. Play Classic mode leisurely, enjoying every minute of the game. Or if you have great skills and prefer more dynamic style, choose the Timed mode. Thus you can appreciate your time and probably, show the best result! No matter what game mode will be chosen, the rules are common in the both. Your aim is to put all the cards scattered on the field to the foundations according to their color. Every group should be put in ascending order, beginning with the value of the card that you'll see first on the playing table. There's also a possibility to replace the pasteboards from the rows to the empty cells, if they don't match the cards in the foundation groups. Play and cap the climaxes with Free Solitaire Ultra! If you are lucky to finish the level and manage to place all the cards to the foundations, you'll receive some points. Unfortunately, if you fail the game, your aces, on the contrary, disappear. Don't miss a chance to score as much as you can! Show the best result and become the leader of the records' table! Above all you can win a certain rank - from Vagabond to Captain. If you get through some levels successfully, your rank will rise! Download Free Solitaire Ultra just now for free and become the Captain of the patience!
Features
Lots of cards
Bright sea-themed graphics
2 possible modes of playing
Mind- boggling game for all years