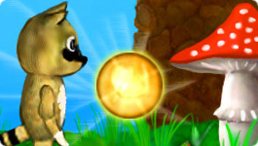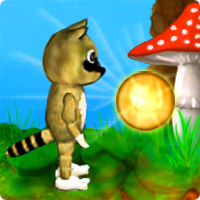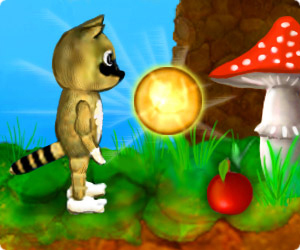 This game is brought to you by our sponsors. It is always free. NO TIME LIMITS!
You will be offered to install MyPlayCity Games Search Chrome Extension with convenient internet search.
Poofik
Hey, dear adventurer! You are welcomed by a little raccoon Poofik, who is glad to see you in his game. You come here to get a catching journey and explore picturesque locations! No doubt, you'll get a lot of fun! Help Poofik get to the long-awaited jewels hidden in the mines. To complete the mission, you are to collect golden and silver coins as well as golden nuts, which are usually put on the highest points of the hills. Don't forget to have a little rest! You'll find tasty apples on your way. You will be pleased by music and sound effects that will never make you bored. Watch out! The road is crooked and full of dangers! You should be very careful not to step on hedgehogs or fall into deep abysses. Beware of worms and bees; they won't miss a chance to snap you. Just jump and flatten them before they hit you. Keep in mind that, in spite of all the difficulties, you are to come to the end safe and sound. When you see the end indicator, this means, that the level is passed successfully! After the successfully passed level you'll get an advice what to do next. At first, you have three lives, and if you unluckily lose them all, you'll have to start from the very beginning. Don't forget, every moment you may stop the game and appreciate your progress. Find yourself in the amazing world full of mystery! Download the funny game Poofik right now for free and enjoy it! The jolly character won't leave you cold-blooded. Good Luck!