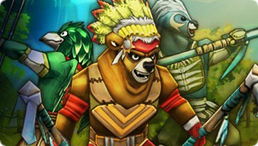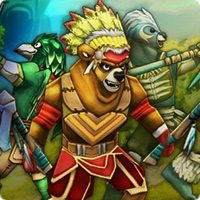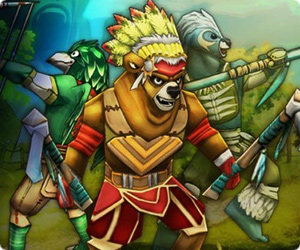 This game is brought to you by our sponsors. It is always free. NO TIME LIMITS!
You will be offered to install MyPlayCity Games Search Chrome Extension with convenient internet search.
Koyotl
Brace yourself to outwit the shaman of coyotes in the colorful and captivating browser game Koyotl! Is there a person who doesn't want check the skills and call yourself a savior of a great tribe? In the game Koyotl you are to help the large tribe bring the chief of coyotes, Koyotl, to reason. It's not easy at all as you can guess. At the very beginning the elements: fire, frost, lightning, acid and stone have made the life of the numerous tribes extremely difficult, and the gods should have tamed them to help the tribes survive. The world in the game Koyotl was savage and dangerous, the tribes were always at war, and it was an undertaking to unite them and oppose the new threat. And the gods decided to gather the elements into totems which they planned to distribute among the chiefs of tribes. The greatest of the gods, Sotugnangu, thought how to contact the shamans. He decided to appear to chosen ones in visions. He appeared to the shamans first to tell them where they could find the totems. The second vision told them what they had to do with them. With these artifacts they should be peaceful and friendly to each other because the power inside them was really destructive. The most of the chiefs supported the idea of uniting except Koyotl, the shaman of the coyotes, who disobeyed. He was going to use the totem to the damage of the equilibrium and he became stronger than other leaders of tribes. Can you accept the challenge and try to banish the selfish shaman? You are not alone, the clan of lizards is also going to continue the war. The war was stopped by the bears, but the leaders of the coyotes and lizards, Koyotl and Sloth, both decided to meet secretly to duel. As a consequence, Koyotl's totem was shattered into four pieces. Are you ready to find them and outwit the cunning Koyotl? He is not bad at all, the fear for his tribe was a just reason to steal the totem. Complete numerous quests to dive to the story of the tribes in the game Koyotl and have fun!