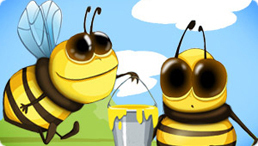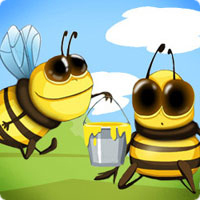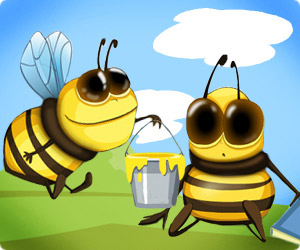 This game is brought to you by our sponsors. It is always free. NO TIME LIMITS!
You will be offered to install MyPlayCity Games Search Chrome Extension with convenient internet search.
Hive Drive
Are you keen on arcanoid games? The game Hive Drive is what you are looking for! It is time to travel in the world of bees and honey - the atmosphere in the game Hive Dive is cute and funny, but it is still a serious arcanoid. You need to put things right in your hive. Help two bees take care of the hive! The enormous hive is full of bad cells, so it's time to sort out all this mess. Take the ball and do not let it fall down popping it out with the towel. Some bricks you should hit several times otherwise they won't disappear. And some of them can cause chain reaction when you hit them. Besides, drone bees made a real mess in your hive and you have to teach them a good lesson. Don't cause harm to them, just do not allow dropping pieces of mud into hive. Hit drones with your ball and throw them up with your towel. There are many different bonus cells in the game Hive Drive as well. Most of them are quite useful: giant balls, towels enlarge, fire balls, double points, sting shooting, next level and the others. Those bonuses can be harmful, too. Be sure not to catch "lose life" one! Every stage will bring you a puzzle: a single shot can clear out a huge amount of cell bricks, just figure out how to do this. Enjoy the bright cartoonish graphics in the game Hive Drive and have fun! Join the boisterous bee community, tell your friends about this funny adventure and compare your scores to find out who is the best hive-cleaner. Download the game Hive Drive for free and enjoy your pastime!
Features
Bright and cartoon-like graphics
Different graphic modes
Pleasant sounds and music
Entertaining for all years