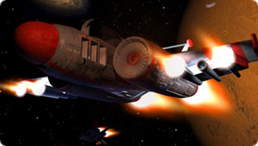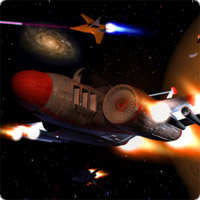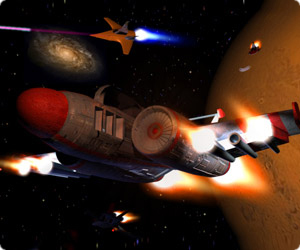 This game is brought to you by our sponsors. It is always free. NO TIME LIMITS!
You will be offered to install MyPlayCity Games Search Chrome Extension with convenient internet search.
Galaxy Racing
Download the free full-version game Galaxy Racing right now and start a captivating space journey. The journey is just 10 levels long but don't think it will be easy. First and foremost, choose a space ship to your liking: there are 5 different types of vehicles to select from. They vary in speed, acceleration and weight. Finally, it's time to start the game! Control your spaceship with either a keyboard or a mouse. Your route is set between 2 lines of burning torch-like things. Try not to get hooked on them or your ship will be destroyed and you will lose a life. Take advantage of your reaction to avoid asteroids: there are small and disastrously huge ones, but the result of clashing with them is the same. Yes, dangers are everywhere. The asteroids appear unexpectedly from different direction. Besides, your route is sometimes so much crooked, with such a great amount of unexpected turns that you will have to be as attentive as you can be. And as fast as you can be, because if you fail to reach a checkpoint you'll have to start the level all over again. If you are attentive and fast (or lucky) enough to finish a level before your time runs out, you'll get some time bonuses. Galaxy Racing is nothing without dangers and difficulties. Now a few words about pleasant things. On the way to finish you can pick up different bonuses: scores, additional energy, nitro or a super-shot to destroy your opponents or the asteroids, invulnerability or a life. Lucky you if you manage to get any of them without being hooked on torches or smashed by asteroids. Good luck to you in the amazing game Galaxy Racing!