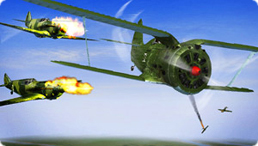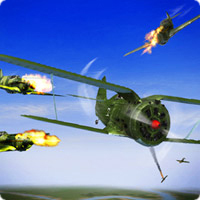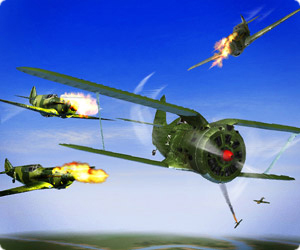 This game is brought to you by our sponsors. It is always free. NO TIME LIMITS!
You will be offered to install MyPlayCity Games Search Chrome Extension with convenient internet search.
Brave Plane
Let us introduce Brave Plane, the sky battle simulator. You will pilot the turboprop-powered fighting plane similar to those that took part in the Second World War. The conflict between countries is a source of your mission: you have to liberate the homeland from the invading army. You will face hostile infantry, landing paratroopers, airplanes, helicopters and air ships. Moreover, you should dodge attack from opponents' fortifications that launch rockets, fire flak rounds and bullets. And do not forget to gather power-up boxes. They go down from above time to time. They contain repair bonuses, score packs, instant clearance of surveillance area from foes and powerful weapons. Available weapons are different: a few kinds of machine guns, several rocket launchers, split-bullet cannons, bomber units and some more. Game is not easy and very dynamic so you will need cat-like quick reflexes and strategic mind to survive in Brave Plane adventure! Each game level will be quicker than the previous one and the quantity of opposing soldiers and craft will grow every second. Speed is your main advantage in this game. You can control your plane by mouse or keyboard; just do not forget to dodge. Encouraging music supports you even if resistance to foes horde seems to be hopeless. Cartoon-like graphics make bright impression and brightens the grayscale of everyday life. Brave Plane is for the brave ones! And remember - air warfare is elite warfare. Contract into elite force and prove yourself to be a real ace!
Features
2 playing modes at your choice
Dynamic music and sudden sound effects
Convenient interface
Catching adventure for all ages